 Super Powered Insertable Wand Kit with Free Attachment
Availability: 10 in stock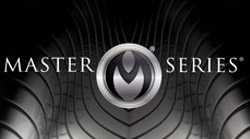 Treat yourself to an orgasmic internal massage! This kit has everything you need to experience vaginal and anal vibration, including a powerful and sophisticated wand massager and 3 diverse attachments. The Thunderstick 2.0 has the same impressive functionality as the original, now with a silicone head and a sleek, modern makeover! The smooth, variable speed dial controls intensities that range from a delicate, low hum to a knee-shaking thrum. The flexible neck allows you to find the right angle without straining your wrist. Love the intense thrill of graduated anal beads? Just place the Thunder Beads attachment over the head of the wand and it will transmit the intense vibration into each of the five smooth, seamless beads. Looking for a fulfilling phallic experience? Enjoy the realistic shape and texture of the Thunder Shaft attachment as it gives you an internal massage, sending the powerful thrumming of the vibe straight into your body. Finally, with the Strap Cap accessory, you can customize penetrating pleasure with a strap on harness for your wand! Simply slip your chosen dildo through one of the top or side openings and do your thing! This set has everything you need for an exciting insertion excursion, solo or with a partner.
Measurements: Thunderstick 2.0 measures 13 inches in total length. Head is 2.4 inches in diameter. Cord measures 65 inches in length. Thunder Beads are 8 inches in total length, 5 inches insertable, beads measure between 0.5 and 1.15 inches in diameter. Thunder Shaft is 6.5 inches in total length. Dildo is 4 inches insertable, 1.25 inches in diameter. Strap Cap has 3 holes total, measuring 1, 2, and 3 inches in diameter. 2.4 inches total diameter.
Material: Thunderstick 2.0 is made of silicone and ABS plastic. Thunder Beads and Thunder Shaft are made of TPE. Strap Cap is made of silicone.
Color: Black.
Note: Includes Thunderstick 2.0, Thunder Beads Anal Wand Attachment, Thunder Shaft Penis Wand Attachment, and Strap Cap Wand Harness. Dildo is not included.