Availability: 10 in stock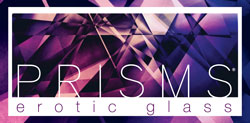 Embrace ecstasy with this erotically twisted dildo! The Soma Twisted Dildo has a twisted shaft that enlarges toward the top for amplified stimulation and features a modestly curved tip for tempting the G-spot. Soma is beautiful on the inside as well, with a subtle indigo wisp inside its center. Made from the finest polished glass, Soma is stunningly luxurious and designed to penetrate. Turn up the heat as your body temperature warms the glass, or use warmer water for even more intensity. Cool it down with a little ice as well, the sturdy borosilicate glass is durable, easily sterilized, non-allergenic, non-porous, and compatible with all lubes. Includes a complimentary storage satchel.
Measurements: 5.75 inches in length, 1.5 inches in diameter.
Material: Borosilicate glass
Color: Clear and blue