Summer is a season of warmth, joy, and endless possibilities for rekindling love summertime ideas. It's the perfect time to reconnect with your partner and rekindle the spark in your relationship. Whether you're in a long-term commitment or a new romance, summer offers a range of activities that can help strengthen your bond and create lasting memories together. In this blog, we'll explore some delightful summertime ideas to reignite the love between you and your partner.
REKINDLING LOVE SUMMERTIME IDEAS
Romantic Picnic in the Park: Pack a delicious picnic basket filled with your favorite treats, a cozy blanket, and a bottle of wine. Head to a nearby park or a picturesque spot in nature, and indulge in a romantic picnic for two. Take the time to disconnect from the world, engage in heartfelt conversations, and enjoy the simple pleasure of each other's company.
Sunset Strolls on the Beach: There's something undeniably magical about watching the sunset together on a sandy beach. Take off your shoes, hold hands, and walk along the shoreline as the sun paints the sky with hues of orange and pink. The rhythmic sound of the waves crashing against the shore creates a serene ambiance, perfect for deepening your connection and sharing your dreams and aspirations.
Outdoor Adventures: Embrace the spirit of adventure and try something new together. Go hiking in a scenic trail, rent bicycles and explore your city, or embark on a kayaking or paddle-boarding adventure. The adrenaline rush from these activities can reignite the passion and remind you of the exciting times you've shared in the past.
Romantic Getaway: Plan a weekend getaway to a romantic destination. Choose a cozy bed and breakfast, a luxurious hotel, or even go camping. The change of scenery can do wonders for your relationship, allowing you both to unwind and escape the everyday stresses of life. Use this time to reconnect, enjoy intimate moments, and rediscover the things you love about each other.
Couples' Spa Day: Indulge in a couples' spa day to pamper yourselves and rejuvenate your spirits. Book a couples' massage, relax in a steam room or sauna, and enjoy a variety of spa treatments. The soothing ambiance, calming scents, and shared experience of relaxation will help you both unwind and reconnect on a deeper level.
Cooking Adventures: Spend a lazy afternoon in the kitchen together, preparing a delicious meal. Experiment with new recipes, or recreate old favorites that hold sentimental value for both of you. The act of cooking together fosters collaboration, communication, and intimacy. Afterward, sit down to savor your culinary creation while enjoying a candlelit dinner.
Outdoor Movie Night: Create your very own outdoor movie night under the stars. Set up a comfortable seating area in your backyard or a nearby park, complete with blankets, pillows, and fairy lights. Pick a selection of your favorite movies or romantic classics, and cuddle up together as you enjoy the enchanting atmosphere and each other's company.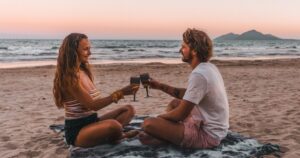 Conclusion: Summer provides the perfect backdrop for reigniting the flame of love and creating cherished memories with your partner. By engaging in these summertime activities, you'll have the opportunity to reconnect on a deeper level, discover new aspects of your relationship, and fall in love all over again. So, embrace the warmth of the season, open your heart to new experiences, and embark on a journey of love and rediscovery with your beloved.
Rekindling Love Summertime Ideas
Check Out My VIDEOS On TikTok And Instagram!